About Whitney & Reviews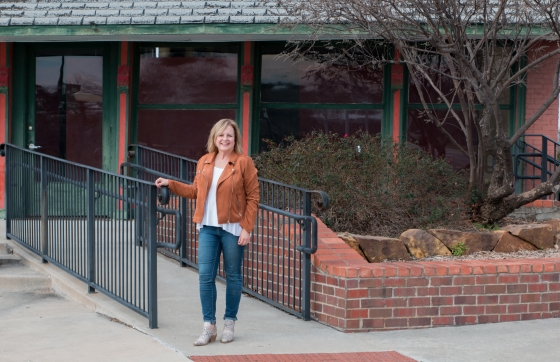 Successful REALTOR, Community Leader, Active Volunteer….Whitney's insightful approach to Real Estate is based on 20 years of Sales, Marketing and Consulting experience.
Whitney launched a successful career in Real Estate in the fast paced 1990's North Dallas Market. Along with Marketplace expertise, her Degree in Advertising and diverse sales and mortgage background have helped Whitney build a Results Oriented Business focused on Commitment, Customer Service and Satisfaction. Whitney also is an Associate Broker and holds a Certified Residential Specialist Designation (CRS) awarded only to Nationwide Top Producing Real Estate Professionals. Whitney is involved in both business and community endeavors, She currently serves as First Vice President of the women's volunteer Nineteenth Century Club and as a member of the Lake Ray Roberts's Rotary Club..
Whitney was honored by the Pilot Point Chamber of Commerce as the 2017 "Citizen of the Year".
REVIEWS
When my mother died, I needed a real estate agent to help me sell some of Mom's properties. A friend recommended Whitney to me. We sold Mom's property quickly and for an great price. Over the years, Whitney has become my "go to" for all my real estate needs. She has helped me sell my person home, some residential lots and large acreage. She is amazing!
J. Meyers
____________________________________________________________________
If you are looking for a realtor to sell your business property or home you need the best, honest, hardworking realtor with extensive real-estate knowledge and background of the marketplace. Finding a realtor, the right realtor with experience and knowledge will help you make educated decisions with your buying or selling needs. A realtor that will listen to your needs and negotiate on your behalf. Working with Whitney Delcourt will make you recognize the differences between excellent, average, and mediocre performance.
We have used Whitney Delcourt for our home and business property sales and purchases. She was always available to talk with us, e-mail us, and/or text message with us regarding anything related to our interest. Whitney Delcourt is a person of high ethical, moral, and professional standards, which is reflected in her work. As such, her outstanding client focus and personal service, impressive market knowledge, outstanding work ethic, and high level of integrity served us well. Apart from providing exceptional negotiation services, her ability to understand your interest and to conceptualize and analyze a situation needs a special mention.
The experience and process of buying and selling properties has been smooth and easy working with Whitney. Whitney Delcourt is an outstanding realtor who on a daily basis goes "above and beyond" support to clients and continuously exceeds our expectations.
From our experience with Whitney Delcourt, she has demonstrated excellent customer focus and service, excellent market knowledge, an amazing work ethic, and genuine personal and professional integrity.
.Whitney Delcourt provided us with personal attention and service that exceeded our expectations, without a glitch. We will be using Whitney Delcourt for all our commercial, land and residential real estate needs in the future. Whitney Delcourt has earned our highest recommendation as a Realtor.
S. Stafford
_______________________________________________________________
Her expert advice on setting the house up and marketing were the upmost helpful. Her relationship and reputation with other area realtors brought in many potential buyers. Her ability to communicate well and promptly with all parties contributed greatly to selling our house. She went above and beyond what I have not seen other realtors do. With us having tenants in our house, she always showed up with other realtors when showing the house. I felt like she was protecting not only our interest but also the tenants. So, last but not least, I felt like she is the upmost trustworthy, great character and diligent in working hard for her customers.
T. Young
_____________________________________________________________________
Whitney provided my wife and I expert advice on selling our home of 23 years. Her knowledge of the local area in both inventory and pricing was a huge help in getting our home sold. Her communication was both prompt and accurate in dealing with us and the buyers. We had tenants during the showings and she made it a point to be present at each one. As we were out of state, this was a huge help to us and the folks we leased the house to. Her honesty and candidness make her a fantastic broker as well as her reputation with the other agents in the area. I would highly recommend Whitney if you are in the market of buying and or selling your home.
P. Young
_____________________________________________________________________
It was a pleasure working with Whitney when relocating to Pilot Point. She is very knowledgeable of this area (380 Corridor up to Texoma), and she knows everybody, so if you have a question she knows just who to call right away.
Aubrey
_____________________________________________________________________
My husband and I just bought our first home through Whitney, and she was awesome the whole time! Answered all of our (many) questions, and even was still able to get all the paperwork together when our lender moved our closing date up by a week with less than 24 hours notice! We really appreciated everything she did for us and will definitely go through her when buying our next house!
H. Tomlinson
________________________________________________________________
Recently had a home for sale in Pilot Point and had the pleasure of dealing with a very wonderful lady and realtor, Whitney Delcourt. I am also aware that she is big in the community of Pilot Point, well liked and with high standards. Since I don't live in Pilot Point, it was hard dealing with some of the issues that came up with home there. I would call Whitney, she would ease my mind on getting things taken care of by helping me find the right people for me to get things done or she would go out of her way to take care of it herself. She was always prompt in returning calls or texts. It was a wonderful experience working with her and a pleasure. If you have a home to sell up around the Denton area or surrounding areas, I would highly recommend her. Thank you Whitney for selling my home!
B. Becker
________________________________________________________________
Whitney is a wonderful person to work with. She is always ready to assist her clients and to speak the truth...diplomatically, of course! And her knowledge of real estate law is unsurpassed. She was very helpful in helping me to avoid pitfalls when I was selling my house. I highly recommend using her as your realtor!
S. Livengood
Greater Metropolitan Association of Realtors
National Association of Realtors